RUBBERBOTEN
Ongetwijfeld kent u het uit uw kindertijd of van uw (klein) kinderen. De opgeblazen verjaardagsballon wordt iedere dag een beetje kleiner. Veel rubberboten zijn in basis van het zelfde materiaal als een ballon. Daarom wordt de luchtdruk zoals bij een ballon langzaam minder. Bij een groot temperatuurverschil tussen dag en nacht gaat dat sneller. Toch is er een verschil. Het doek van een rubberboot bestaat uit verschillende lagen, het is versterkt met vezels en het is veel dikker. Dus wekelijks een beetje lucht bijpompen is normaal. Moet er elke dag lucht bij of is er een groot verschil tussen één en de andere luchtkamers, dan is er waarschijnlijk een lekkage.
LEKKAGES
De meest voorkomende lekkages zijn niet meteen zichtbaar. We vinden ze vaak bij een luchtventiel. Door vuil dat in het ventiel terecht komt gaat de terugslagklep niet helemaal dicht of raakt deze beschadigd. Schoonmaken of vervangen is daarbij de oplossing. Andere lekkages worden veroorzaakt door slijtage, ongelukjes en soms door een aanvaring.
" Eindelijk een bedrijf in de regio, die weet hoe ze rubberboten moeten repareren." Reddingsbrigade Roermond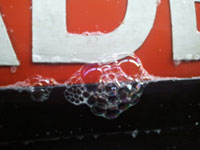 ALLE SOORTEN LEKKAGES REPAREREN
Het repareren van een rubberboot is bijzonder. Het basismateriaal is vergelijkbaar, maar toch kunt u de reparatie niet vergelijken met het repareren van een luchtbed of  fietsband. Natuurlijk kunt u een kleine lekkage zelf repareren, zorg voor de juiste materialen en goed advies. Zit de lekkage op een naad of is het lek al eens gerepareerd dan is het beter om de mensen van Hermus Watersport om hulp te vragen. Kom met uw boot naar de winkel, zodat we de lekkage kunnen inspecteren. Wij geven  u advies wanneer u zelf wilt repareren. We geven u een prijsopgave waneer uw wilt dat onze mensen de lekkage repareren.