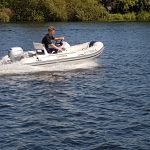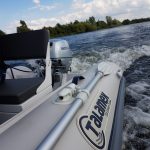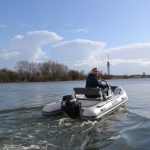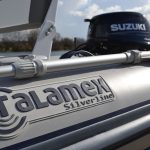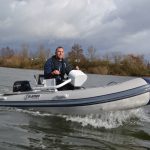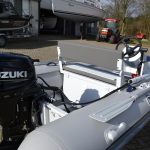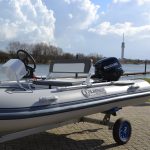 Talamex Silverline 350 met console
De Talamex Silverline 350 met console is een prachtige boot die uitgerust is met een krachtige 20 pk buitenboordmotor. Deze combinatie zorgt voor geweldige vaareigenschappen, waarbij je snel en gemakkelijk over het water kan stuiteren. De boot is eenvoudig te besturen, zowel bij langzaam varen als op topsnelheid. Hoewel de omschrijving aangeeft dat de Silverline 350 geschikt is voor 6 personen, is de console-uitvoering beter geschikt voor 4 personen. De zitplaatsen met console zijn voorzien van comfortabele zitkussens.
De Talamex Silverline 350 is gefabriceerd van 0,9mm duurzaam en hoogwaardig 1100 decitex PVC doek in combinatie met een 2,5mm dikke aluminium romp. Dit maakt de boot zeer wendbaar, snel en handelbaar. Bovendien is het gewicht van de aluminium romp laag, waardoor de boot gemakkelijk te manoeuvreren is. De boot beschikt over vele unieke features zoals een Bravo overdrukventiel, telescopische aluminium roeiriemen, verschuifbare aluminium zitbank, RVS sleepogen, harde en zachte handgrepen. Dankzij de zes aluminium gelaste hijsogen kan de boot gemakkelijk in de davits worden gehangen.
De Talamex Silverline 350 is voorzien van een bowlocker met brandstoftankbandje en een vlakke dubbele vloer die afgewerkt is met anti-slip delen. De speciale poedercoating zorgt voor een hoogwaardige uitstraling en maakt de romp bijna onderhoudsvrij. Met de Talamex aluminium stuurconsoles kunt u de boot customizen voor extra vaarcomfort. In het standaard pakket zit onder andere: een zitkussen, reparatieset, double-action handpomp en brandstoftankbandje.
Op de Talamex Silverline 350 wordt standaard 2 jaar garantie gegeven en alle Talamex boten zijn door de Dutch Marine Inspection CE gecertificeerd, waardoor ze voldoen aan alle Europese eisen. Dit maakt de Talamex Silverline 350 een perfecte keuze voor een heerlijke dag op het water of als bijboot aan de davids. Of het nu gaat om een snelle boodschap, een uitje met de kinderen of het uitlaten van de hond, de Talamex Silverline 350 is de perfecte boot voor elke gelegenheid.
Klik voor adres gegevens en de openingstijden
De Talamex Silverline 350 met console is uitgerust met
Een 20PK buitenboordmotor
Besturingssysteem
Console met comfortabele zitbank
Antislipstrips in de kuip
Startaccu
Brandstoftank 12 liter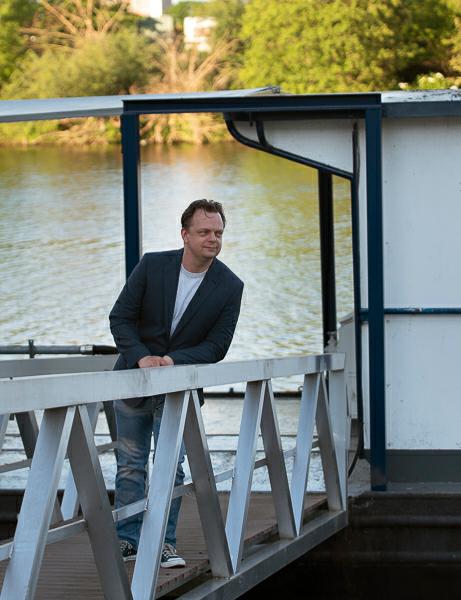 Vragen?
Bent u helemaal overdonderd door onze boten en zit u nu met enkele vragen? Neem snel contact op met Emiel. Hij helpt u graag verder.
Telefoon: +31 (0) 475 33 71 12
E-mail: watersport@hermus.eu