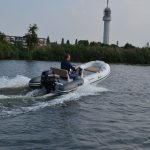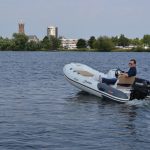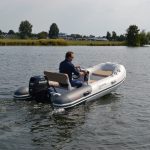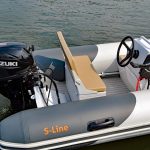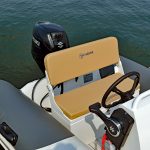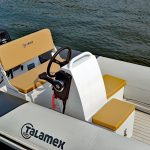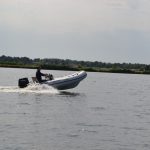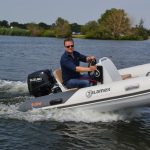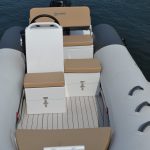 Talamex S-LINE 380 bij Hermus Watersport is voorzien van een stevig aluminium frame gecoat met een duurzame UV bestendige coating. En het rubber is van de beste kwaliteit, het PVC doek dat de S-Line gebruikt wordt namelijk gemaakt in Duitsland. Op de vloer zijn zachte antislip strips aangebracht ze geven meer grip op de kuip, tegelijk krijgt de boot een luxe uitstraling. Op de neus is een anker rol geplaatst waarmee je op een veilige en praktische manier met de S-line voor anker kan gaan liggen. Wat is nu mooier, lekker een stuk varen en dan het anker uit. Samen een hapje eten of een boekje lezen of met een sierlijke sprong lekker het verkoelende water in.
Verder is de boot voorzien van een console met zitbank voor twee personen en zijn de overige zitplaatsen van dezelfde kussens voorzien. De boot is geschikt voor 6 personen.  Rond om zijn diverse handige handgrepen aangebracht, om je vast te houden als jullie over het water stuiteren of om de boot gemakkelijk te kunnen verplaatsen. De tubes van deze rubberboot zijn 46cm in doorsnee en dat geeft de boot stabiliteit. Het komt de vaareigenschappen ten goede de hogere rubes geven bescherming aan alle opvarende. Onder de waterlijn heeft de boot een V vorm waarmee de boot makkelijk door de golven snijdt.
Het belangrijkst is dat de Talamex S-Line 380  bijzonder comfortabel vaart, zowel op lage als hoge snelheden. Dit model hebben we uitgevoerd met een Suzuki 30 PK, de boot heeft met deze motor een ongelofelijke topsnelheid van meer dan 60km per uur.
De gegeven prijs is boot met motor en de belangrijkste accessoires die nodig zijn om veilig en comfortabel te kunnen varen. Deze Talamex S-line 380 is compleet en vaarklaar, het enigste dat u zelf moet doen voordat u gaat varen, is de motor starten. Kom langs, de boot is op voorraad en vaarklaar. Je kan ze komen bekijken en zelf ervaren of de boot bij je past. Klik voor adres gegevens en de openingstijden
Talamex S-LINE 380 bij Hermus Watersport is uitgerust met:
Motor Suzuki 30PK
Vaarklaar pakket
Console met zitbank
Kussenpakket
Antislip strips op de kuipvloer
Ankerrol op de neus van de boot
Landvasten
Brandstoftank
Stuur en bedieningssysteem
Accu pakket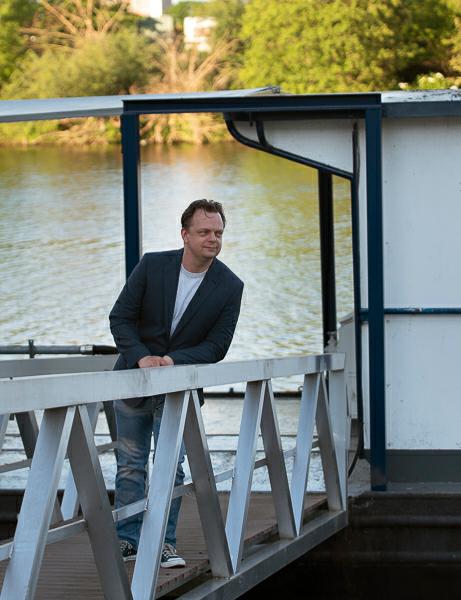 Vragen?
Bent u helemaal overdonderd door onze boten en zit u nu met enkele vragen? Neem snel contact op met Emiel. Hij helpt u graag verder.
Telefoon: +31 (0) 475 33 71 12
E-mail: watersport@hermus.eu