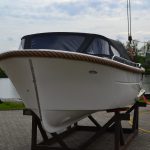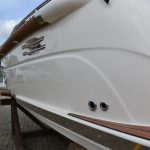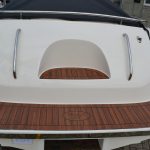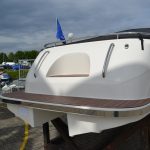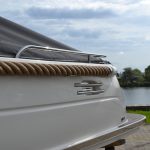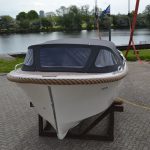 De Primeur 610 tender is het meest gevraagde model uit de Primeur familie. Met een grote en brede comfortabele rondzit, biedt deze boot veel ruimte om te genieten van tijd op het water. De verlaagde kuipvloer en de hoge rugleuning zorgt voor nog meer ruimte en maakt het een geweldige boot voor uitjes met gezin, vrienden of een geliefde. Of het nu gaat om heerlijk achterover leunen en genieten van het uitzicht of gezellig met elkaar praten, de Primeur 610 tender biedt de perfecte setting voor samenzijn.
Met een lengte van 6.10 meter en een maximale snelheid van 45 kilometer per uur met een 60pk buitenboordmotor, is de Primeur 610 een snelle en wendbare boot. Maar ook met een 20pk is deze boot bijzonder comfortabel en kan er heerlijk gevaren worden, zodat je volop kunt genieten van de frisse buitenlucht. Primeur 610 tender snijdt comfortabel door de golven en heeft bijzonder stabiele vaareigenschappen.
De buitenboordmotor wordt in de bun geïnstalleerd, waardoor je alle voordelen van een buitenboordmotor hebt zonder dat je hem ziet. Hoewel de motor hoorbaar is, wordt het geluid sterk geïsoleerd door de bun en het bunkussen. Daardoor heb je vrijwel geen hinder van het motorgeluid. De opbergkasten onder de rondzit bieden veel opbergruimte en er is ruimte voor een koelkast. Die optioneel gekozen kan worden. Van je zwemkleding tot aan een lekkere lunch er is meer dan genoeg plaats voor alle spullen die je graag mee neemt op een zomerse dagtocht.
En na een sportieve vaartocht is het tijd om het anker uit te gooien. Tijd voor een gezamenlijke lunch, het lezen van een boek of een frisse duik in het water vanuit het comfortabele zwemplateau. Kortom, Primeur 610 is een ideale boot voor wie houdt van plezier en comfort op het water.
Dit model is op voorraad, kom langs en ervaar zelf of dit de boot is die bij je past. Klik voor adres gegevens en de openingstijden
Primeur 610 Tender is uitgerust met:
Buiskap & dekzeil
Gewatteerde Kussenset Otono
Finland Teaklook in kuip en op zwemplateau
Railingpakket RVS
Bunkussen
Zonnedek met kussens en tafel
Navigatie verlichting
Vaarklaar pakket
USB stekker en 12 volt contactdoos
Starters pakket
Brandstoftank 40 Liter
Bimini RVS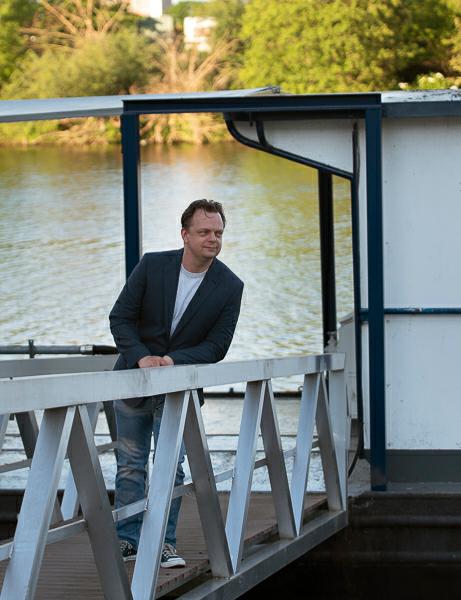 Vragen?
Bent u helemaal overdonderd door onze boten en zit u nu met enkele vragen? Neem snel contact op met Emiel. Hij helpt u graag verder.
Telefoon: +31 (0) 475 33 71 12
E-mail: watersport@hermus.eu