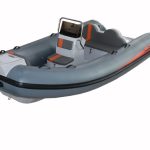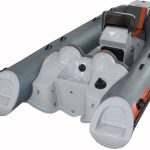 Nimarine MX 410 Antraciet RIB
Nimarine MX 410 Antraciet RIB. Stoere kleuren, sterk karakter en als je wilt gaat deze boot razend snel. Deze boot kan namelijk gemotoriseerd worden met een 50PK dat geeft een maximale snelheid van ca. 55km/h. Om het beste vaar comfort te garanderen leveren wij de boot met stuurconsole en een compleet luxe kussen set. Ook met een RIB kan je comfortabel varen.
Snel over het water stuiteren of in alle rust toeren, het is aan jouw. Want deze boot is koersvast en ook met een 30pk of 40 pk blijft het een prachtige boot om mee te varen. Korte draaicirkel maakt het dat deze boot makkelijker te besturen is.
Met recht een ideale bijboot of gewoon lekker het water op tijdens je vakantie. Van de Muritz in Duitsland tot aan het Lago di Garda in Italie de Nimarine MX410 kan makkelijk mee op de trailer en daarmee ligt heel Europa aan je voeten.
Wij rusten de boot compleet en vaarklaar uit.  Landvasten pakket, Anker & ankerlijn, Fenders, de besturing, een set peddels, een loosplug, een sleepoog en tankbevestiging, voetpomp, manometer en een reparatiekit doen we er allemaal bij.
Nimarine MX 410 Antraciet RIB is uitgerust met:
Besturingssysteem
Luxe kussen pakket
Console Extra
Landvasten pakket
Fenders
Peddels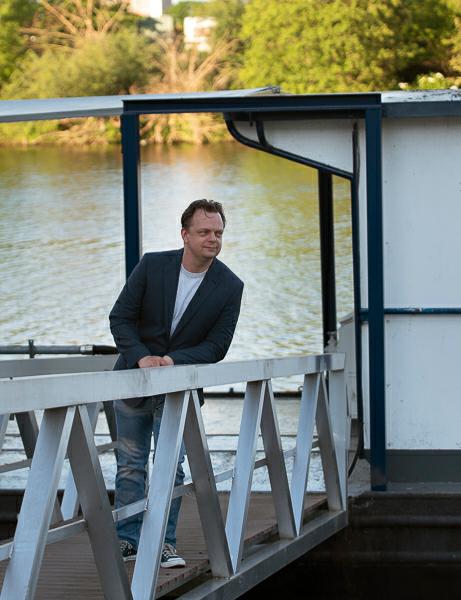 Vragen?
Bent u helemaal overdonderd door onze boten en zit u nu met enkele vragen? Neem snel contact op met Emiel. Hij helpt u graag verder.
Telefoon: +31 (0) 475 33 71 12
E-mail: watersport@hermus.eu