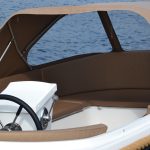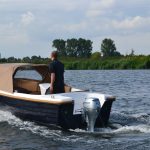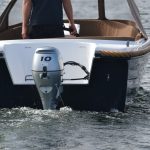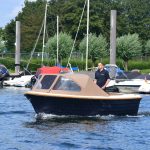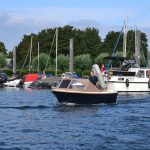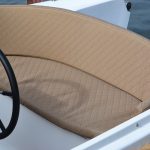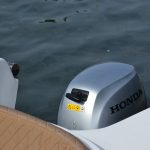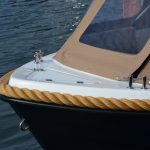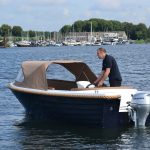 4 Family 530 Dark-Blue is een vijf meter lange sloep en is iets breder dan twee meter. Dus alle ruimte en comfort voor de hele familie. In een prachtige combinatie van kwaliteit en eenvoud is deze 4 Family 530 uitgevoerd met een zwart-blauwe romp en een witte kuip wat de boot een luxueuze uitstraling geeft.
Bovendien is de boot uitgerust met extra gewatteerde kussens die zorgen voor een nog mooiere uitstraling en meer comfort. Onder de rondzit en bestuurders bank zijn opbergruimtes aangebracht, bakskisten worden ze genoemd. Zo is er genoeg ruimte voor alles wat je op een dagtocht mee wilt nemen. Van eten en drinken tot aan een spannend boek. En met zoveel water om je heen is niets is zo verleidelijk dan een frisse duik, dus de zwemspullen gaan natuurlijk ook mee.
Rustig toeren of op hoge snelheid over het water stuiteren, deze 4 Family 530 Dark-Blue ligt stevig in het water en laat zich makkelijk besturen. Genieten van het water, de natuur en elkaar. Met bij geleverde planken en extra kussens transformeer je de rondzit in een enkele minuut tot grote loungebank. Mooie zomeravond met een hapje en drankje aan boord, comfortabel loungen en keer op keer genieten van de laatste warme zonnestralen van de dag.
We hebben deze boot uitgerust met een 10PK motor uit het jaar 2022, ze heeft een uur of 15 gelopen. Een vrijwel nieuwe motor waarmee je vaarbewijs-vrij het water op kan. Mocht je meer vermogen willen, onze monteurs instaleren eenvoudig een andere motor, tot 50PK is mogelijk op de 4 Family 530 Dark-Blue. Met die 50 PK zal ze rond de 45 km per uur lopen. Op dit moment is dus een 10 pk van een jaar oud gemonteerd en dat maakt deze combinatie extra voordelig. Met deze extreem gunstig prijs – kwaliteitsverhouding verwachten we dan ook dat ze snel verkocht zal zijn. De boot is vaarklaar, geen wachttijden en geen gedoe. Gewoon lekker het water op, je kan meteen varen.
4 Family 530 Dark-Blue is uitgerust met:
Buiskap & dekzeil
Kabelaring
Teaklook vloer in de kuip
Besturingssysteem
Luxe gewatteerde kussen set
Zonnedek met extra kussen
Vaarklaar pakket
Uitneembare tafel bij rondzit
Nieuwe boot met jong gebruikte motor, 10pk van een jaar oud.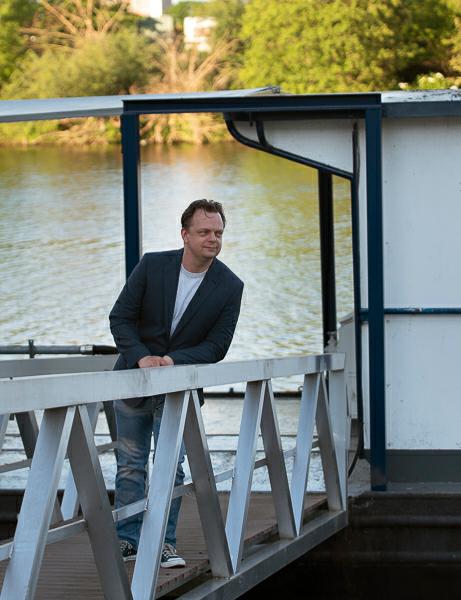 Vragen?
Bent u helemaal overdonderd door onze boten en zit u nu met enkele vragen? Neem snel contact op met Emiel. Hij helpt u graag verder.
Telefoon: +31 (0) 475 33 71 12
E-mail: watersport@hermus.eu