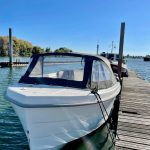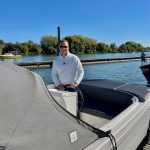 TendR600 White 20pk (demo2022)
TendR600 White 20pkheeft veel ruimte voor de opvarende en opbergruimte. Voorin de TendR600 White 20pk is een comfortabele ruime rondzit met hoge rug kussens. De zitplaatsen zijn geschikt om te ontspannen, te loungen en er blijft meer dan genoeg ruimte over voor alle spullen die je op een zomerse dagtocht graag meeneemt. Van een koelbox tot aan je zwemkleding, want wat is er nu mooier? Een stukje varen, het anker uit en genieten van natuur, rust, een lunch of wat andere hapjes en als het echt lekker weer is de dag afsluiten met een heerlijk frisse duik in het water. Vanaf het grote zwemplateau heb je alle ruimte om het water in te gaan en alle ruimte af te drogen nog voordat je weer in de boot stapt. Zeker als je een zwemtrapje laat instaleren.
De boot wordt bestuurd vanaf een lange zitbank, die is bijna net zo breed als de boot. Comfortabel met vrienden en familie over de Nederlandse wateren toeren of met je geliefde, heerlijk knus samen bij het vallen van de nacht de sterren tellen.
De TendR 600 ligt net als alle TendR boten stabiel in het water. Natuurlijk beweegt de boot een beetje wanneer je instapt, maar bij de TendRs geen onverwacht geschommel. En ook op het water blijkt de boot bijzonder stabiel door golfslag heen te varen. De motor is in de bun geplaatst. Daarmee heb je alle voordelen van een buitenboordmotor zonder dat je hem ziet.
We hebben deze TendR600 White uitgerust met een Suzuki  20pk, de boot is compleet en vaarklaar. Ze heeft in 2022 dienst gedaan als demonstratie model. En is afgewerkt met complete kussenset met bunkussen, bootkap, besturingssysteem, brandstoftank, startaccu en heeft teaklook vloer in de kuip van Flexiteak. Heb je interesse in deze boot? Ben er snel bij, we verwachten dat deze boot als een van de eerste verkocht zal zijn.
Kom langs, deze boot is op voorraad en vaarklaar. Je kan ze komen bekijken en zelf ervaren of de boot bij je past. Klik voor adres gegevens en de openingstijden
Technische gegevens:
Type600  White
Lengte5.95 mtr
Breedte2.25 mtr
Diepgang0.35 mtr
Doorvaarhoogte1.10 mtr
Gewicht850 kg
Aantal personen6
CE-certificatieC
Deze boot is uitgerust met:
Suzuki 20 PK
Besturingssysteem
Buiskap & dekzeil
Comfortabele kussenset
Startaccu set
Brandstof tank 23 liter
Flexiteak vloer in de kuip
Intern.Nr: 6666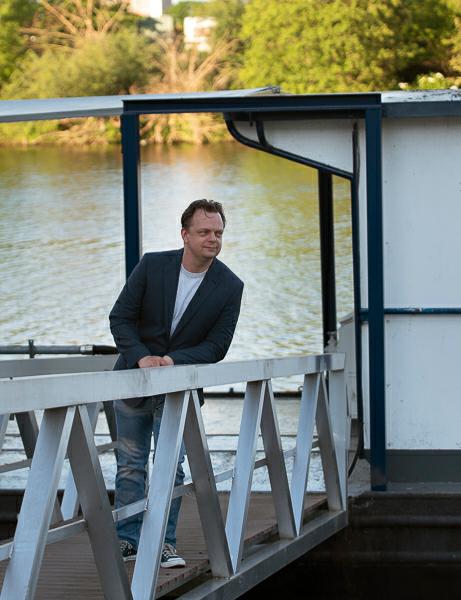 Vragen?
Bent u helemaal overdonderd door onze boten en zit u nu met enkele vragen? Neem snel contact op met Emiel. Hij helpt u graag verder.
Telefoon: +31 (0) 475 33 71 12
E-mail: watersport@hermus.eu