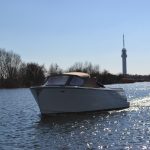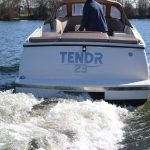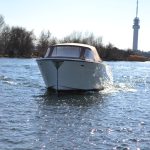 Op de TendR 23 is het comfortabel genieten van alle ruimte. De zitplaatsen zijn geschikt om ontspannen te loungen en er blijft meer dan genoeg ruimte over voor alle spullen die je op een zomerse dagtocht graag meeneemt. Van een koelbox tot aan je zwemkleding, want wat is er nu mooier? Een stukje varen, het anker uit en genieten van natuur, rust en als het echt lekker weer is afsluiten met een heerlijk frisse duik in het water.
Een motor van 30pk is voldoende voor mooie en rustige vaartochten met je gezin, familie of vrienden, maar de TendR23 is motoriseerbaar tot 100pk. Die levert op volvermogen een topsnelheid op van ongeveer 45 km per uur*. Dus alle remmen los, stuiterend over het water je hoofd leeg maken of gas terug en rustig aan genieten van rust, natuur en elkaar.
De rondzit kan getransformeerd worden tot een groot zonnedek, heerlijk loungen in de zon. Een boekje lezen, samen lunchen of stiekem even de oogjes dicht. De opstapjes aan bakboord en stuurboord vergemakkelijken het in en uitstappen. Wanneer je aan boord stapt beweegt de boot wel iets, maar geen vervelend geschommel en dat is op het water ook zo. Grotere golfslag snijdt de TendR rustig doorheen en de kleine golven voel je niet eens. Dankzij de uitgebalanceerde romp blijft de boot bijzonder stabiel en koersvast.  De motor zit achter op de boot verstopt in de bun. Je hebt alle voordelen van een zuinige en makkelijk te onderhouden buitenboordmotor, maar is hij niet zichtbaar. Dat geeft de boot een mooier uitstraling en werkt geluidsisolerend.
Een boot om gezien te worden, een boot om te genieten van het water, de rust en elkaar. Tegelijk kan er ook serieus gas geven worden. TendR 23 heeft een stoer en luxueus uiterlijk en heeft de balans gevonden, want TendR boten zijn absoluut niet te duur. Deze boot is verkocht, maar de TendR23 kan gewoon besteld worden, informeer naar de verwachte levertijden.  Klik voor adres gegevens en de openingstijden
Technische gegevens:
| | |
| --- | --- |
| Type | TendR23 |
| Lengte | 7.00 meter |
| Breedte | 2.55 meter |
| Gewicht | 1200 kg |
| Aantal personen | 7 |
| Motorisering | Max. 100 pk |
Deze boot is uitgerust met:
Vaarklaar pakket
Buiskap & dekzeil
Luxe kussenpakket gewatteerd
Zonnedek met kussen
Bunkussen
Flexiteak kuipvloer en zwemplateau
Navigatieverlichting
Klokkenset twee stuks
Scheepshoorn
Landvasten en anker met lijn
Ingebouwde brandstoftank
Stuur en bedieningssysteem
Accu pakket
Antifouling
Intern.Nr: 6928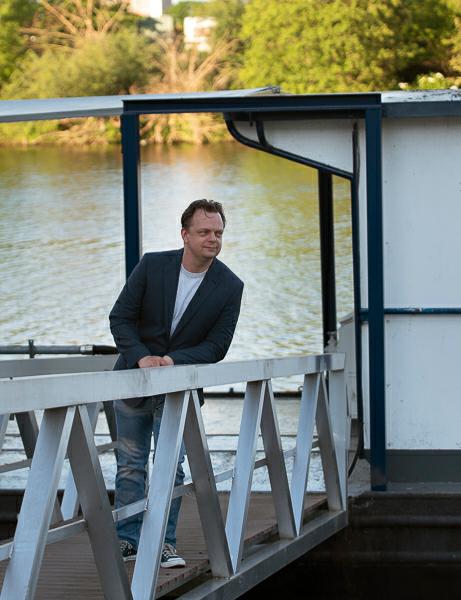 Vragen?
Bent u helemaal overdonderd door onze boten en zit u nu met enkele vragen? Neem snel contact op met Emiel. Hij helpt u graag verder.
Telefoon: +31 (0) 475 33 71 12
E-mail: watersport@hermus.eu