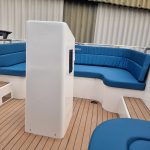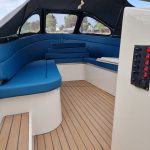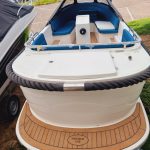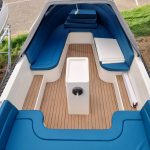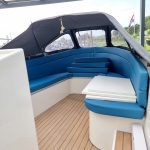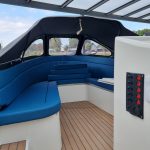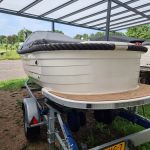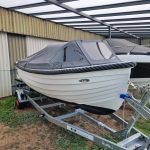 Primeur 570 White-Regatta
Primeur 570 White-Regatta is net als de hele Primeur vloot bijzonder degelijk gebouwd. Deze 5.70 meter lange sloep heeft een comfortabele en gezellige rondzit met praktische hoge rugleuningen. In de kleur helder wit met een luxe kussen pakket in de kleur Regatta (Indigo blauw) en een buiskap & dekzeil in de kleur Grafito .Het is een prachtige en unieke combinatie van kleuren, die een uitstraling geven waarmee je gezien mag worden.
Deze Primeur 570 White-Regatta is koersvast, dat maakt het besturen makkelijker en je hebt een goed overzicht over het water en de boten om je heen. Je kan deze boot uitrusten tot maximaal 20pk. Een vaarbewijs is niet nodig.De motor wordt gemonteerd in de bun waardoor je alle voordelen hebt van een buitenboordmotor, zonder dat je ze ziet. Tegelijk werkt de bun geluidsisolerend. In alle rust toeren over de Nederlandse wateren. Maar ook daarbuiten, de boot gaat makkelijk op de trailer mee. Van de Müritz in Duitsland tot aan de Lago die Garda in Italië, letterlijk alle binnen wateren van Europa liggen binnen je bereik.
Onder elke zitbank is een opbergruimte te vinden, in de maritieme wereld noemen we dit de bakskisten. Ze bieden ruimte voor de alle spullen, van een hapje en drankje tot aan je zwemspullen het kan allemaal mee voor je ideale dagtocht.
De primeur 570 White-Regatta is een boot om mee gezien te worden, een boot om comfortabel te genieten met familie, vrienden of alleen met je geliefde van het water, de natuur en elkaar. Onderweg naar een van de vele restaurantjes of beach clubs langs het water waar er steeds meer van zijn, om daarna samen te genieten van de laatste warme zonnestralen van de dag.
Kom langs, bekijk en ervaar zelf of dit de boot is die bij je past. De boot is uit voorraad leverbaar, kom langs om hem zelf te bekijken!
Primeur 570 White-Regatta is uitgerust met:
Buiskap & Dekzeil kleur grafito
RVS Railing pakket
Teaklook vloer & zwemplateau
Navigatie verlichting
Bilgepomp
Luxe kussenpakket kleur Regatta
Kabelaring
Antifouling
Besturingssysteem
Vaarklaar geïnstalleerd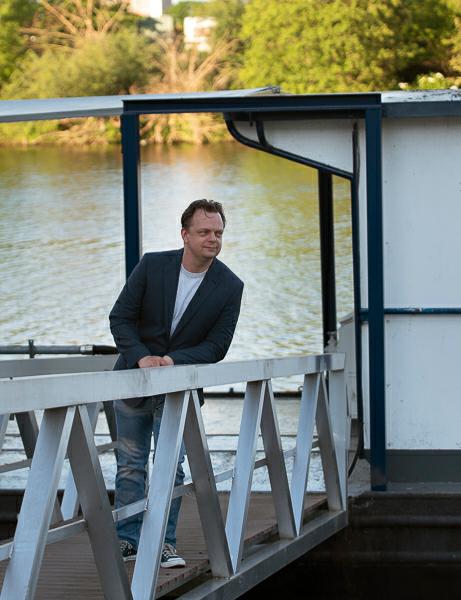 Vragen?
Bent u helemaal overdonderd door onze boten en zit u nu met enkele vragen? Neem snel contact op met Emiel. Hij helpt u graag verder.
Telefoon: +31 (0) 475 33 71 12
E-mail: watersport@hermus.eu